Studio Controls Manual
Studio Controls is a response to the pitfalls people have encountered setting up audio on Linux for (semi)professional use. Many installers on Linux do not install JACK with correct system permissions. Being able to hear desktop audio is often desirable or needed while using JACK. USB microphones have become common. While it has always been possible to deal with these problems, it meant manually creating and running scripts at each JACK startup. It means learning the "gottchas" and restarting the whole thing just because a USB device was plugged in.
Studio Controls expects pulseaudio to be configured for desktop use. Cadence in particular and possibly hand crafted pulseaudio configurations are likely to cause pulseaudio to fail to start when it should. Cadence deserves special mention because it writes pulseaudio configuration files to the user directory which means that even removing Cadence from the machine does not remove these files leaving the machine without a proper working pulseaudio setup. In these cases it is perhaps better to continue using Cadence than switching to Studio Controls.
Studio Controls has been divided into tabs in order to present the settings in an easier to understand manner. This manual will use the same layout.
On opening Studio Controls, the window will look something like this: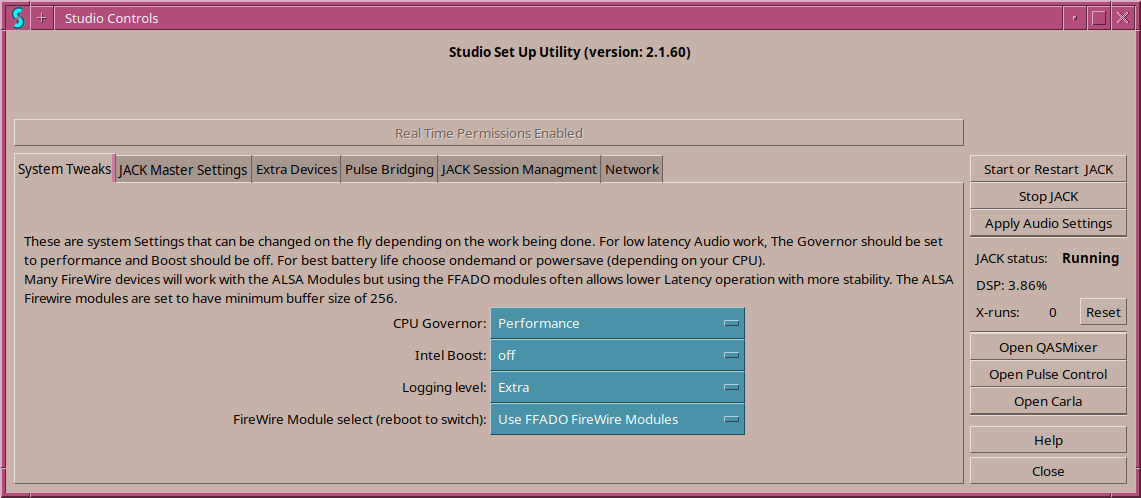 Please Note: Studio Controls uses the system's theme. So screen shots may look different on your machine.
The window is divided into three areas: The top title and real time permissions check at the top, The Generic controls on the right side and the tabbed area to the left.
---
Studio Controls Home